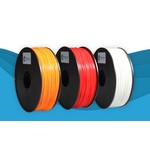 The 3D-Printer filament comparison table shows you which filament we have to offer and what application they can be used best for based on their material properties and usability. This will help you find the right filament for your 3D-Print projects.

Buying 3D-Printer Filament is done best at Hestay, your online specialist in 3D-Printing. We offer an assortment of over 130 different kinds of filament, ranging from a huge variety of colors to materials such as: ABS, PLA, HIPS, PETG, Nylon, Flexible, Wood fiber and PVA. ABS, PLA, HIPS, PETG, Nylon, Flexible, Wood fiber and PVA.

ABS filament vs. PLA filament
The difference real between ABS filament and PLA filament is often quite unclear. ABS or (Acrylonitrile butadiene styrene) is created from crude oil and is excellent for creating durable 3D-Prints. PLA or (Polylactic Acid) is created from plant oils and is thereby biodegradable. PLA is therefore used for decorative objects that do not have to survive harsh environments.

But why not print the decorative objects also in ABS filament?
PLA is a lot easier to 3D-Print than ABS. ABS requires specific heating and warps very easily whereas PLA can be 3D-Printed without a heated bed. Check out our Filament comparison table for more information about filament properties.


The Perfect 3D-Printer settings for each type of material
To successfully start 3D-Printing with each of our different filaments, we offer the optimal print settings for each kind of filament material. You can find the settings at the top of our website under ''3D-Printing support'' -> ''3D-Printing material settings''.
Hestay Filament
Every color and material 3D-Printer filament is available in three diameters: 1.75, 2.85 and 3.00 mm with a 0.05 mm tolerance. The product page offers the option to choose between these diameters before purchasing. We deliver the 3D-Printer filament vacuum sealed with a moisture absorber included to maintain the quality and integrity of the filament right to your doorstep.